About OpenEMR
Community
The OpenEMR community is dedicated to guarding OpenEMR's status as a free, open source software solution for medical practices. Its members are comprised of software developers, as well as physicians and others with extensive medical and billing knowledge, all with the common goal of making OpenEMR a superior alternative to its proprietary counterparts.
The project's home is SourceForge, at http://sourceforge.net/projects/openemr/. There are additional project resources at http://www.open-emr.org/, including a demonstration site.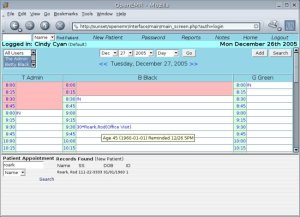 Following are some of the guiding principles that have been formulated by the project's most active members:
OpenEMR will remain 100% free software under the GNU GPL.
We will maintain a spirit of openness, kindness and cooperation.
We will give back to the free software community.
We will document our changes and improvements.
We will not hide problems.
We will not discriminate against persons or groups, subject to our focus on the field of medicine and we encourage the use of OpenEMR in other languages.
We will avoid needless complexity, to include software design, installation, maintenance and usability.
Features
Some features of OpenEMR are:
Electronic Medical Records, creating an on-line record of your encounters
Customizable encounter templates
A flexible system of coding including CPT, HCPCS and ICD codes and the ability to add others
A compact and flexible appointment calendar
Advanced reporting capabilities
Prescription writing capability with ability to email or print prescriptions
ANSI X12 support allowing clinics to send billing claims electronically to payers
Interfacing to SQL-Ledger (also open source) for advanced accounting features
Patient statements and collection letters
Efficient EOB data entry for payments, adjustments, writeoffs, rebilling
Support for two clearinghouses, ProxyMed and Zirmed, and adaptability to others
HIPAA compliance
Browser-based for flexibility, security, easy maintenance and platform independence
Remotely accessable from any modern web browser with a suitable security certificate installed
History
OpenEMR was originally developed by Synitech and version 1.0 was released in June of 2001 as MP Pro (MedicalPractice Professional). Much of the code was then reworked for HIPAA compliance and improved security, and the product was reintroduced as OpenEMR version 1.3 a year later, in June 2002.
The project, now open source, evolved through version 2.0 and the Pennington Firm took over as its primary maintainer in January of 2004.
Pennfirm did a good job of making the medical community more aware of OpenEMR, and as more developers and users became active in making improvements (Sunset Systems was the most prolific of these), the project's code base was moved to SourceForge in March of 2005, where it remains today.